I, as well as many other bloggers, are participating in Holly's Horrorland Vampire's Day Soiree. For those of you who don't know it's an alternative Valentine's Day event for bloggers and the theme is.....SKELETONS!!....Ha ha fooled you, it's about vampires.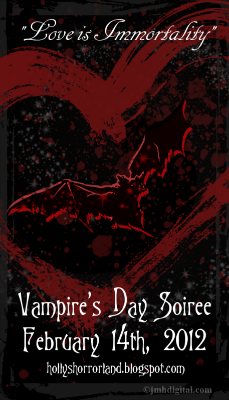 I would think other people are going to talk about vampire romance novels, films, and show elegant vampy fashion. Well I'm going to hopefully do something different by showing cool vamp-friendly jewelry and other things from many different sites. (Don't worry, I'll give links.)
For the first item of interest we have a lovely Black Cloak body oil. The smell is very refreshing and dark. I actually own a bottle of this. It is listed for $14.95.
 



Next we have a really cool looking Blood Vial Test Tube Necklace with Guardian Bats. The description says it is "a glass vial filled with special FX fluid that perfectly matches the appearance of blood for the ULTIMATE EFFECT! Each necklace hangs on a 22inch leather cord with silver and black stone accents. The vial has a sterling silver plated cap and is approx 1.3 inches long." The price is $12.95. This is also from vampfangs.com.
The third item I found is a Vampire Gaelic Plait Bracelet. Its a black leather wristband that has a lead-free pewter vampire bat on top that buttons closed. It is also adjustable.


Item number four is a
Cryptiana Coffin Gothic Wrist Watch. Listed at $84, this watch features plenty coffins, two crystals, and three roses all made from lead-free pewter.



The last few items are from (my personal favorite,)
imosh.com
. A British Pewter Gothic Bat Choker with a
Swarovski Black Heart Crystal and adjustable chain/catch fastening. It is made from lead-free pewter also and it measures 6 1/2 inches long. The adjustable chain is 9 inches. Priced at $60.

The next one has two different versions. It is an ankh earring, but you could get it either with a 1 1/2 inch chain or not. It's pewter, and the hook is sterling silver. Depending on which you pick the price is either $4 or $9.
You can't be a vampire without a bat necklace, so here is a silver plated pewter Gothic Bat Necklace. The bat pendant is hung from a stainless steel 18 inch chain priced at $14

And last, but not least, we have an ankh ring. This ring is bronze with silver plating, and is sized from 5-10. It is not adjustable, and is about 3/4 of an inch tall. It is priced at $10.
Thats it for my Vampires Day Soiree post. I hope you enjoyed reading it as much as I did writing it and hopefully I gave a few sites out to those who never heard of these amazing sites before.
Now it's time to
le float
away to
Holly's Horrorland
and have a wonderful time with
el bloggers
:3